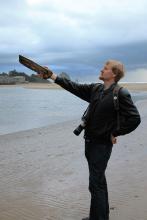 I'm going to break my posting hiatus with a recipe, but first, a little catch-up if you haven't been following me on other media:
In January, we packed up the Yellow House in Orlando and prepared it to be a rental property (an expensive ante) and packed up the 2 dogs and 3 cats to move to Portland, OR. Mariah and I got engaged in June of last year and our wedding will be in Florida on January 7th, (1/7/17). We're pretty excited, and it will be an awesome Winter escape for us and our families.
Last time I wrote here, I had been working at Blink Reaction, later FFW. That job lasted for about a year and a half, and in July I took an offer from Palantir.net that had been extended around the time of DrupalCon, but I started in July. Between switching jobs, we were also took a 2 week trip to Italy at the same time as we were moving into a new house in Portland, in the Mt. Scott neighborhood. The house where we live now was custom-built back in the 80s, and it's full of all sorts of fun 80s-isms. It has a NuTone intercom system, a Central Vaccuum, a built-in iorning board, a Hot Tub, a Sauna (still don't understand having a sauna) and one of the most unique features, a large professional Wok in the middle of the kitchen.
A Wok.
Mariah was quoted as saying, "Once we learn how to use it, we're putting EVERYTHING in that wok! ... Dessert, Breakfast Cereal, you name it!"
There are many exciting things you get to do as a homeowner, like learning what all the switches do, getting your skylights fixed in the middle of the wettest week of the summer while you're in Italy, getting quotes for repairs, arguing with the home warranty company, the list goes on.
The most exciting thing we have done in the last month is learn to use the wok.
Step 1: clean and season the wok. It was a little corroded, and needed some help. It's very usable, but you need to keep the seasoning up, or it starts to rust.
Step 2: learn how to light and extinguish the pilot light. Turns out that if you leave the pilot on, the wok and the cover for it get very hot, because there's a flame the size of a candle burning under there all the time. Steel is a great conductor of heat.
Step 3: learn that large amounts of whole vegetables don't cook nearly as quickly, or caremalize nearly as much, as single batches of finely sliced vegetables.
Step 4: get some Peanut Oil or another oil with a high smoke point, and learn to tell when it's ready. The water drop test works pretty well if you don't have another way of telling.
Step 5: good ventilation. We had to get our range exhaust fixed. When you are working with Thai Chiles, you don't really want to breathe in the Mace that is released when you drop them in screaming hot Peanut Oil.
Step 6: don't touch your face or eyes after touching the Thai Chiles (learned this one several years ago, but it bears repeating)
Step 7: don't leave the Wok unattended, and keep the food moving. Burning your food is no fun, and there are safety reasons too.
Step 8: get some recipes that are optimized for a wok. We are really early in this journey yet, but so far we have found one really fantastic one: Holy Basil.
Step 9: find the Asian grocery stores near your house, and learn where they keep the Black Soy Sauce (much better for stir frying) and Long Beans.
Wait WTF are Long Beans?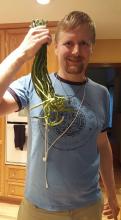 Kind of like American Green Beans or Haricots Vert, but 16 inches long. In the wok you cut them up into tiny pieces so they cook faster and have lots of surface area to caremelize and soak up the sauce.
Holy Basil
Kai Kaphrao Khai Dao / Stir Fried Chicken with Hot Basil
from Pok Pok restaurant in Portland
(If you don't like spicy food, leave the chiles out entirely. If you normally order "Medium" or "Hot", try half the amount of Chiles and adjust. You can always go hotter, but it's hard to get milder.)
(we also found a few things that speed up the prep: a) a bag of crushed dry chiles, and b) frozen minced garlic in mini ice cube trays)
2 T vegetable oil
1 lg. egg at room temp.
1 T Thai fish sauce
2 tsp. Thai black soy sauce
1 tsp. sugar
11 grams peeled garlic cloves, halved lengthwise and tightly crushed into small pieces in a mortar (about 1 T)
5 ounces ground chicken
1 ounce long beans cut crosswise into 1/8-inch slices (about 1/4 C) (you could easily double the amoutn of beans)
1 1/2 ounces yellow onion, thinly sliced with the grain (about 1/4 C)
6 grams (about 4 fresh) Thai chiles, preferably red, thinly sliced. (start with half this amount and adjust if you would like)
3 or 4 dried Thai chiles, friend and very coarsely crumbled (start with half this amount and adjust if you would like)
6 grams hot
basil
leaves (about 1 C)
Serves with jasmine rice
Heat wok over very high heat, add oil.  When it begins to smoke, crack egg and cook for about 5 seconds. Decrease heat to medium and cook egg, frequently tipping pan and basting egg, just until the white has set and turned golden at the edges and the yolk is cooked the way you like it.  Turn off heat and transfer egg to paper towels, leaving oil in wok.
Combine fish sauce, soy sauce and sugar. Stir well.
Heat wok again over very high heat.  When oil smokes lightly, add garlic, take wok off heat and let garlic sizzle, stirring often, until it light golden brown, about 30 seconds.  Put wok back on heat, then add the chicken, long beans, onions and fresh chiles.  Stir-fry and break up chicken as you do until the meat is just barely cooked through, about 1 minute.
Add the dried chiles and the fish sauce mixture (add a splash of water, if necessary, to make sure nothing is left behind in the bowl), and stir-fry until the liquid has been absorbed, 30 seconds to 1 minutes more.  Turn off the heat.
Just before you are ready to serve, turn the heat back to high and once the meat is heated through, add
basil
and stir until it is wilted and very fragrant, 15 seconds or so.
Serve with jasmine rice and fried egg.
----
And now that it's taken me over a year to write this blog post, I'll bring it to an abrupt end.
 
Commenting on this Blog post is closed.