Where can you find some of the most passionate, open, outgoing, and collaborative people on the planet? What is my favorite International happening? Where will I be getting my hands dirty with source code, teaching workshops, taking tons of photos and shaking o-so-many hands?
DrupalCon!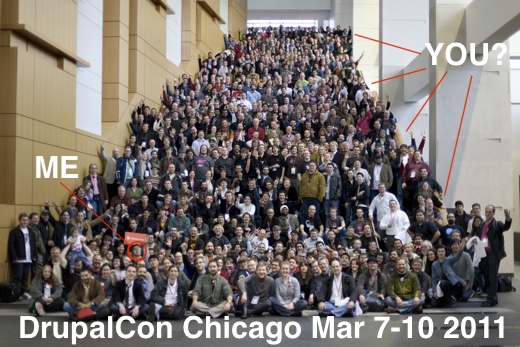 I have mad so many great friends through this community and these events - I know Chicago will be no different. Another neat thing is the massive number of people who will all be staying in the "Drupal Towers", complete with custom pajamas!
At DrupalConSF I co-presented a Pre-Conference Training session about Drupal Theming - Mike and I had a great time, and we had a good number of students in the class.
This year, I'm doing something very similar, with 2 small changes:
I'm teaching the class by myself
Drupal 7 has landed!
This means I'm going to have more territory to cover, without my second brain. I've certainly done this before, so it should go off without a hitch. Preparation and years of experience are certainly going to help.
This class is intended for people who know some HTML and CSS, and covers the fundamental principles of Drupal theming geared toward people who wish to take a static mockup of a site design and turn it into a Drupal theme. You will also learn about using base themes, grid-based layout and helper modules to streamline and customize your Drupal theme.
Drupal is the industry-leading open source content management platform used to power millions of websites. It's also a robust community of Web developers, designers, businesspeople, and everyday citizens around the world.

DrupalCon is an international event that brings together the people who use, develop, design, and support the Drupal platform. DrupalCon Chicago will be held March 7-10, 2011, and will feature dozens of curated sessions and panels from some of the most influential people and brightest minds within the Drupal community and beyond, as well as countless opportunities for networking, sprints, informal conversations, and more. Go to http://chicago2011.drupal.org to find out more and purchase your ticket today, along with registration for Beginning Drupal Theming!
Hope to see you all in Chicago. We're going to have a blast. Early Bird registration prices have been extended through Friday 1/21 - i.e. Tomorrow, so now is a great time to make your plans.
Commenting on this Blog post is closed.