I will be doing an (as of yet untitled) digital puppetry / collaborative performance piece tonight as a part of a backyard art showcase. The blunder for me, is that it's 18 hours until the event and I don't have a playable demo! Built with Processing and a Nintendo WiiMote. Come and see what the fuss is all about.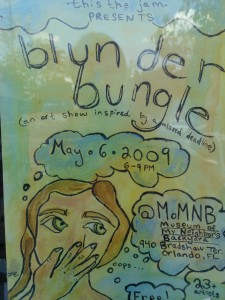 In light of a recent missed deadline, we are creating an art show to prove that royally messing up, is not in fact the end of the world.
Artists participating include:
Doreen Barber | James Caruso | Patricia Coyle
Jessica Earley | Trevor Garrett | Jennifer Foust
Greg Leibowitz | Molly Livingston | Hannah Miller
Sergio Mora | Eric Jedraszczak | Rachael Page
Brian Phillips | Doug Rhodehamel | Maria Heidi Sanchez
Matthew Simantov | Blair Sligar | Beau Thomas
Jessalyn Wakefield | Katie Windish
With Performances by:
Omar Delarosa | Brian Feldman | Jack Fields | Ryan Price | Erika Wilhite
Organized by Jessica Earley, incarnated by you.
When: Wednesday May 6th, 2009 from 6:00 PM - 9:00 PM
Where: Museum of My Neighbor's Backyard (MoMNB) - 940 Bradshaw Terrace Orlando, FL 32806 (S. of Gore St. / E. of Delaney Ave.) http://tr.im/MoMNBmap
Admission: Free
Websites:
http://tr.im/blunderBungle (Blunder Bungle : Facebook Event)
http://docs.google.com/Doc?id=d2w5n2p_4cv873dfc (Blunder Bungle : Google Docs)
When referencing on Twitter, please use hashtags:
#thisthejam #BlunderBungle #MoMNB
Public Transportation / Parking:
LYNX: Take Link 7 or Link 11 on Orange Ave. The bus stop is in front of Lucerne Medical Center. Walk one block south to Gore St. Turn Left at Gore St. and right onto Bradshaw Terrace. / Street Parking is available along Bradshaw Terrace and in the empty lot across the street.
Commenting on this Blog post is closed.